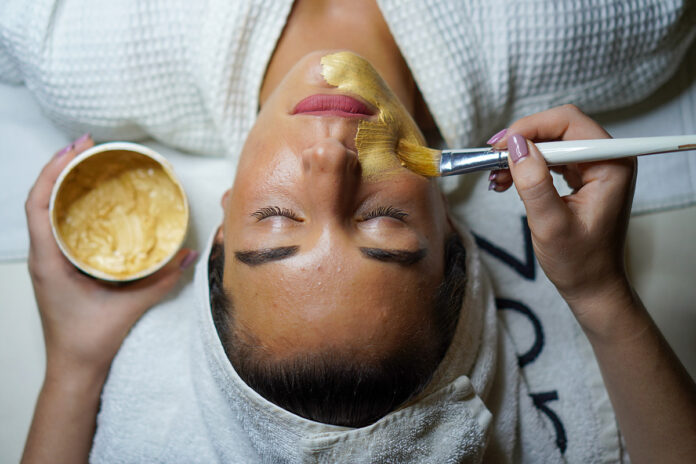 We know what you're thinking. We thought the exact same thing when we first heard about such products. But, to make a long story short: no, this is not a joke. It's a real face mask, with real skin-enhancing ingredients capable of giving you an elegant, expensive, and "worth every penny" type of makeover that you would only ever expect to see on the faces of the very rich and famous.
So what are these gold face masks? Where do they come from? And how, exactly, can applying a thin layer of 24K gold rejuvenate your tired-looking, aging, or wrinkled skin? We decided to look into this mystery, as we do so often with new and trendy beauty products. And, believe it or not, we found some pretty amazing answers to our inquiries.
When Your Skin Deserves the Best, Go for the Gold
When you think of gold, many different things come to mind: Opulence. Wealth. Richness. Beauty. In many countries, this precious metal is the actual, physical good which makes their legal tender worth anything. Even Donald Trump, one of the most successful businessmen in the world, recognizes the importance of gold. That is why he incorporates it into his branding and architecture.
For those who have a little extra disposable income on hand and want a top-tier rejuvenating facial, a gold face mask is one of the best options available. We've taken a look at several different products, but the one that stood out to us the most was the Brilliance New York's 24K Gold Indulgence Face Mask. And we chose this particular mask based on a combination of value and quality ingredients. Not only are you getting a sizeable number of masks in each gold face mask set, but it comes with high quality ingredients which, when combined with the gold, enhance the anti-aging and anti-wrinkle benefits of the mask. Those ingredients are:
Gold Extract – this extract contains the energizing electron particles which surround the nucleus of every atomic unit of gold. This invaluable extract reportedly has the ability to firm tissue, while also helping your skin retain natural moisture levels. It can potentially boost activity in the elastic tissues of the skin, prompting new cellular generation.
Vitamin C – Vitamin C has been an essential part of cosmetic facials for ages, even dating back to ancient times. Only recently, though, has science figured out exactly why vitamin C is so good for our skin. When it penetrates the top layers of our dermis, ascorbic acid (the technical term for vitamin C) helps your body produce more collagen. This, in turn, fortifies skin to make it healthier and firmer.
Vitamin E – Since the golden age of Cleopatra (a woman who knew a thing or two herself about the beauty benefits of gold), people have been using antioxidants in order to keep their skin looking radiant and healthy. Vitamin E has been one of the top tier antioxidants since the dawn of the skin care industry. Its ability to prevent oxidative damage and repair skin cells is an essential part of any quality skin care therapy.
The Wide World of Golden Makeovers
Naturally, the gold face mask set we mentioned above is just one of many desirable options when it comes to getting a golden makeover. As we mentioned earlier, we chose the Brilliance mask based on efficacy and affordability. But gold-infused skin treatments also come in the following:
Colloid liquid gold, which is a liquid suspension of gold particles. Some say the gold is more easily absorbed by your skin, but these formulas can be prohibitively expensive for most women.
Gold-flecked beauty creams. These creams, which can cost anywhere from $400-$1,200 per ounce or more, contain regular skin moisturizing ingredients with tiny flecks of gold that you can see with the naked eye. But these may not be as effective at fighting wrinkles, because those tiny gold flecks are taking a back seat to the other ingredients in the cream.
Liquid gold facials at your local salon. These liquid formulas usually have a higher concentrated amount of gold in the formula, plus they come with the pampering and relaxation typical of your garden variety salon experience. Unfortunately, out of all available gold face mask treatments, these are usually the most expensive.
Sure, they may cost a lot of money, but at some point everyone deserves to give their beauty regimen a little extra something. And using a gold face mask is one of the hottest and most fashionable ways to improve your look! Learn more.